Five Surprising Benefits of Group Fitness Classes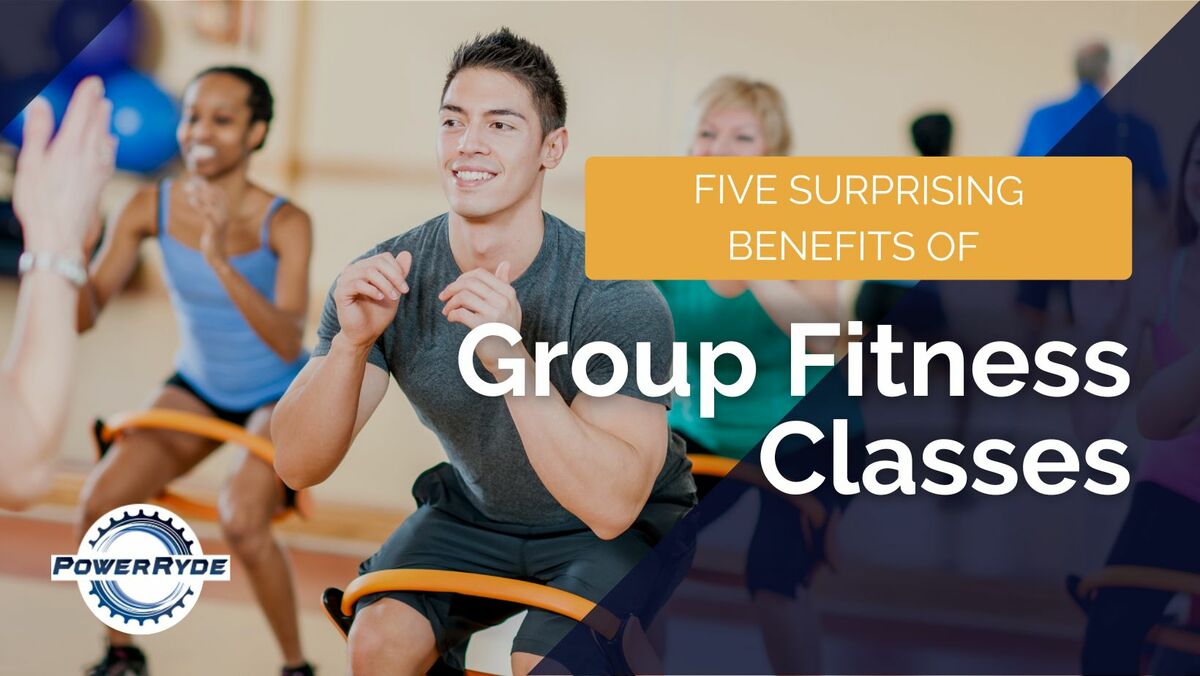 At Power Ryde, we pride ourselves on a fun and motivating group dynamic.

Group fitness can be intimidating when you're a beginner. We get it, you might envision a room full of fit athletes and worry you won't be able to keep up.

Nothing could be further from the truth! Group classes are perfect for people of all athletic abilities, and they let you work at your own pace while you master form, build muscle, and torch calories.

At Power Ryde, we offer classes for indoor cycling, TRX (straps that help you build muscle with your body weight), and circuit training. These are all incredible opportunities to improve your physical fitness, make friends, and learn from an expert trainer.

Group fitness classes have many surprising benefits that you may not have thought of.

Keep reading to learn more about the surprising benefits of group fitness classes!


These Benefits of Group Fitness Classes May Surprise You


Group classes are great for beginners looking to get into physical fitness for numerous reasons.

Here are some of the most surprising benefits of group fitness classes.


Learning Proper Form is Easier than Ever Before


If you have so much as dipped your toe into the world of physical fitness, then you know that proper form is everything.

If your form is not right you will not build muscle, you'll burn fewer calories, and, oh yeah, you'll likely end up hurting yourself!

When you are in a group fitness class you are in a team of people with multiple levels of experience and a trained professional front and center.

This gives you an exclusive opportunity to watch those that are more experienced than you and emulate their form so you can get a better workout and improve your gains.


You Get a Structured Workout


One problem beginners often face is that they do not have a firm workout plan or structure. They jump from one machine to the next, they might try weights here and there, or run a mile on the treadmill, but they don't have a firm plan.

One of the biggest benefits of a group class is that your trainer has designed a specific workout plan meant to produce a specific result. That may mean targeting specific muscle groups, focusing on burning maximum calories, or helping you boost your endurance.

When you work out in a group class, your workout is structured and that means working towards specific goals is easier than ever before.


Let's Get Motivated!


You say you want to achieve something, then you do it! If only it were that simple.

When you work out in a group, you are less likely to stop, stall, or rest, than if you work out alone.

This is because you face positive peer pressure to push through your exhaustion and find new levels of motivation.

The result? A longer, more fulfilling workout that lets you smash your goals!


You Gain a New Social Group


Fitness centers can be intimidating. Like anything, working out is easier with a little help from some friends.

When you participate in group classes, you meet new people with the same goals as you!

That means you and your classmates can socialize and work together to meet common goals. Also, it means you will quickly become familiar with a crew of friendly faces so you can feel right at home in no time!


Variety is the Spice of Fitness


The same old workout week after week quickly gets dull and leads to many fitness newcomers quitting.

When you sign up for a fitness class, your trainer shakes up your class each week, teaching you new and exciting movements and techniques to help you feel the burn and torch calories.

Whether it's for cycling, TRX, or anything in between, there are dozens of unique movements and activities for you to learn and enjoy. Group fitness classes help you discover the variety of your workouts.


Go Further with Group Classes from Power Ryde


Working out alone can be a challenge. Sure, you can go at your own pace, but that often leads to a less fulfilling workout.

What was once comfortable and safe can soon become dull, repetitive, and monotonous. Boredom and lack of progress can leave you feeling tempted to quit.

Enter group classes from Power Ryde!

Group classes may be just the thing you need to shake up your workout, add an infusion of motivation, and help you reach your goals.

Power Ryde offers indoor cycling classes, TRX classes, and strength circuit classes all led by an expert professional to help you get the workout you need.

If you are ready to take your workout to the next level in Cincinnati Loveland, Ohio, then it is time to sign up for your first Power Ryde class today!

If you are happy with the Power Ryde difference, leave us a review here!

Also, be sure to follow us on Facebook and Instagram for more free fitness tips!