RealRyder Bikes Help Make Workouts Fun and Engaging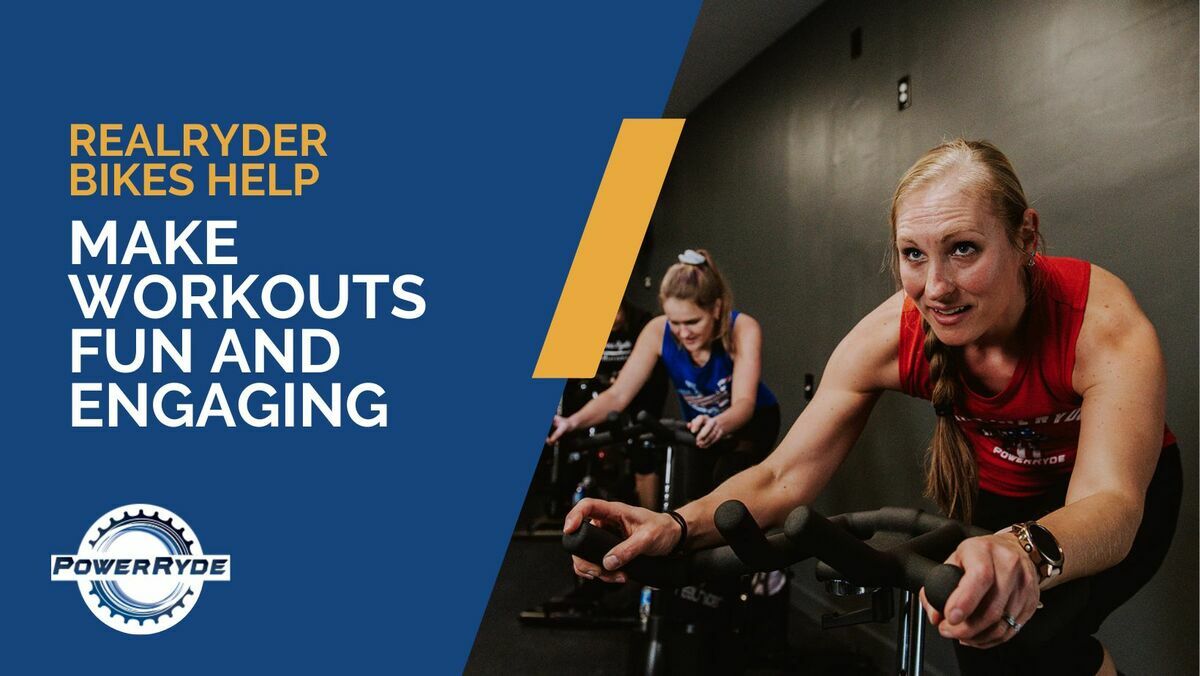 Finding a workout that works for you is one of the most challenging aspects of getting or staying in shape.


Beginners do not want to jump into a workout that is too intense too quickly or else they will struggle to find proper form and risk injury as well as burning calories efficiently.


Meanwhile, more experienced athletes want a workout that gets their blood pumping without becoming repetitive or boring.


Let us introduce the Real Ryder bike; the perfect piece of workout equipment for all levels and abilities! A piece of equipment that is accessible, engaging, easy on the joints, tailored to your needs, and (most importantly) fun!


If you find yourself bored with the same old routine, or you struggle to find a workout that makes you want to exercise, the Real Ryder Bike is exactly what your workout is missing.


This post will go over what makes the RealRyder Bike unique, engaging, and the next great addition to your workout routine.
The Real Ryder Bike Difference


So, what is the difference between the Real Ryder Bike and a traditional stationary bike?


The most prominent difference is that the RealRyder Bike tilts from side to side as you ride. In doing so, this motion mimics the action of a real bike on the road (hence the name).


But what's so special about a bike that tilts? When you move from side to side and at different angles, you engage your arms and core in addition to your legs. This does two things. First, it is a lot more fun since you are moving your whole body and activating your imagination. Second, you burn 20-30% more calories on a RealRyder Bike than you would on a traditional stationary bike.


In short, on a RealRyder Bike not only do you get a seriously satisfying leg workout, but you also get the bonus of upper body and core strength and definition.


By activating so many muscle groups, the RealRyder Bike helps you train your coordination. Better coordination means improved strength, agility, and speed.


The Power of Lateral Movement


When was the last time you saw an athlete only move forward and backward? Even track stars engage in lateral agility drills!


As human beings, we are constantly moving laterally (side to side). So why do so many exercises and workout routines focus on forwarding and backward movements (while ignoring lateral motion)?


Basketball players dribble down the court and dodge people. Baseball players and track runners are constantly running in a counterclockwise loop. Football players run down the field and pivot side-to-side to get around people.


Without lateral training, these athletes would lack strength, agility, and speed and thus, risk injury.


You may not be a pro athlete, but every human being engages in the athleticism of some kind.


The RealRyder bike helps ensure that our lateral athleticism stays up to snuff by helping to strengthen the left and right sides of our bodies.


On the RealRyder Bike, we can sprint and climb hills both left and right. In addition, the RealRyder is easier on the hips, low back, knees, and other joints as compared to a traditional stationary bike; meaning they are an excellent low-impact activity.


Finally, they are accessible to anyone, no matter their skill level or athleticism. These bikes can support up to 350 pounds of weight and let you set your own pace and resistance.


That's the power of lateral movement.


Get a More Complete Workout with Power Ryde


At Power Ryde, we understand that it is not easy to find a workout that works for you or your schedule. Too many workouts are boring, repetitive, or just too difficult for beginners.


That's why we offer classes for everybody, regardless of their level of experience or skill.


From strength training to TRX and Circuit Classes to treadmill classes and more, Power Ryde is here to help, no matter your athletic goals.


One of our most popular classes is our classic Power Ryde 45. In this 45-minute class, we focus on cycling, sweating, and strengthening. In this class, we focus on working the entire body and utilizing everything the RealRyder bike has to offer. We spin to the beat of the music, and you can expect flats, hills, sprints, shakes, left turns, right turns, and more!


If you are ready to go for a ride on the RealRyder bike, sign up for your first Power Ryde 45 class today!