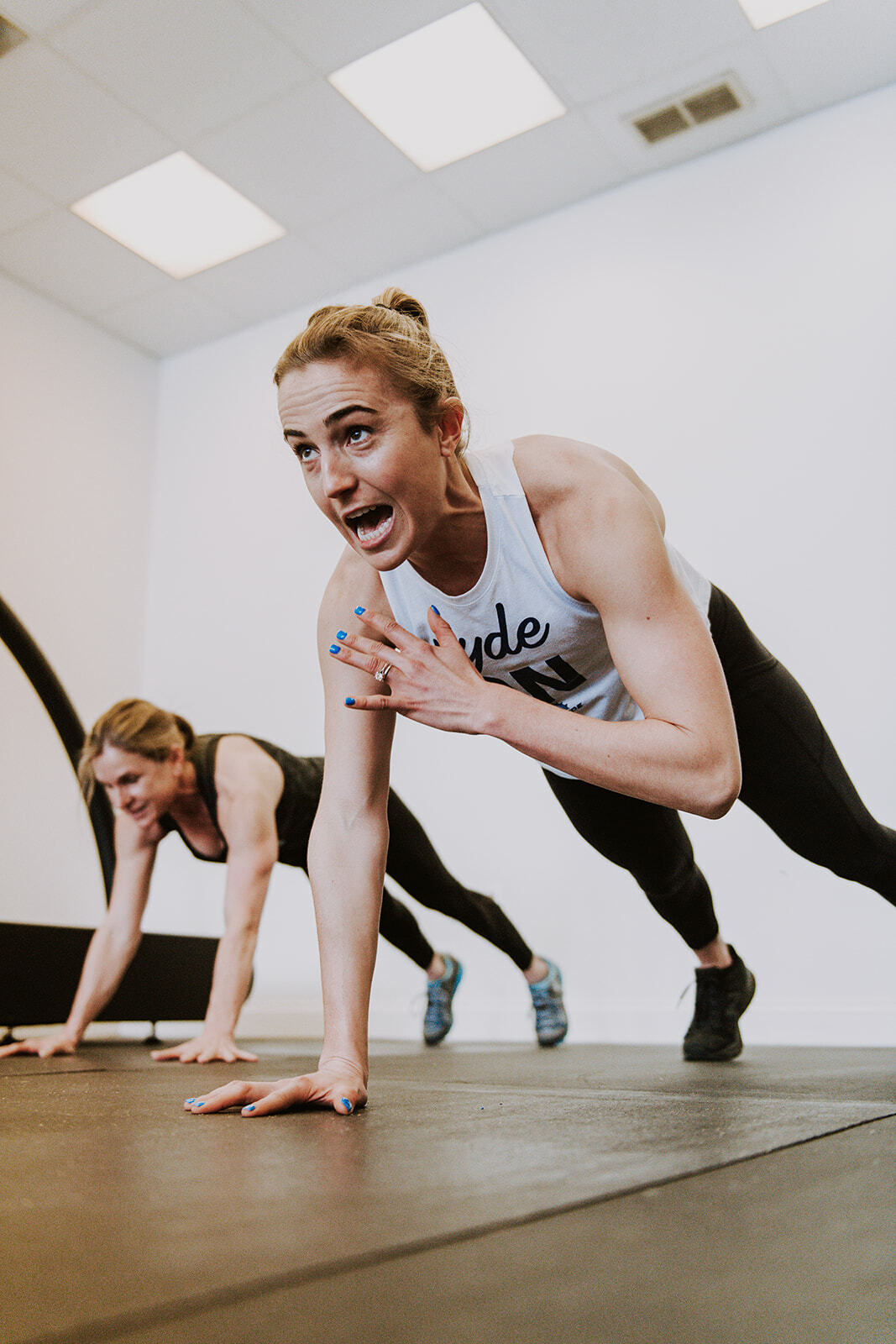 WORKOUT WITH US FROM HOME
Want to access workout videos any time, anywhere, and as often as you like? Then this option is for you! For just $19.99 a month, you will have access to our entire On Demand Video Library which hosts 100+ workout videos with new videos added monthly.
Choose from strength classes to stretch classes to treadmill classes! Classes range from low-intensity to high-intensity and every class is different. Our On Demand Library has classes that range from 15- to 20- to 30- to 45- to 60-minutes in length! Giving you great workout options for every day of the week!
Click here to sign up and we will send you your login information!
Class Descriptions
Join us OFF the bike!
Now offering non-cycling, strength classes! Whether you want high-intensity intervals or low-impact with a big burn, we offer both. These classes are filmed 3 times a week and uploaded to our On Demand Class library which you can access any time, any where, and as often as you like!
We have 3 Strength Class Types:
BUILD - this class ranges weekly from 30-45-60 minutes (schedule will say). It is all timed strength intervals to BUILD those muscles. It is low-impact and there is no jumping. We will use slightly heavier weights and bands, but that doesn't mean we won't utilize lighter weights and bands. Expect to strengthen those muscles and leave feeling strong!
BURN - (previously named "Traditional Off the Bike") - 45-minute class that uses bands, balls, lighter dumbbells, and body weight (we don't always use all the things; but sometimes we do). This is a low-impact class with zero jumping. Each class will target the arms, abs, legs, and glutes. We do high reps to BURN out those muscle groups.
SWEAT - this class ranges weekly from 30-45-60 minutes. It involves timed strength and cardio intervals. You can expect a lot of lunges, squats, bicep curls, shoulder presses, planks, etc. mixed with plyometric sets to get your heart rate up (think - jump squats, burpees, jumping lunges, jump rope, and a whole slew of other "fun" moves). This class will have you SWEATing, shaking, and breathing heavy by the end. But you will also finish feeling SO STRONG! This is our most cardio aerobic of our strength classes.
Treadmill Classes
These are pre-recorded 30-minute treadmill classes; meaning you can do them whenever you want and wherever you want (on the treadmill in your basement or on the treadmill at the gym!). They are all-audio. Put in your headphones, press play, and Casey will tell you the rest.
We record one new class a week and upload it to our On Demand Video Library. You will hear Casey's voice, her cues, and an awesome playlist. She will tell you where to be speed-wise and incline-wise every minute of the class. And, she will motivate you to finish STRONG!
These classes are included in our On Demand Library which costs just $19.99 a month and gets you 100+ workout videos; 20+ of which are tread classes. One new tread class added each week!
Virtual off the bike classes are the best!! These classes are one of my favorite things that came out of this pandemic! I quit my current gym membership and have no plans to return to my normal routine. You instruct the most effective workouts! Your energy and enthusiasm makes exercise enjoyable.
So much so, that my 14-year-old daughter ASKS (without any prompting) to "do a Casey class". This is a teenager who dislikes ANY physical activity!! We always laugh at your comments like "you'll get over it".
We love working out with you so much that we are taking you abroad!! We are moving to Geneva, Switzerland in a few weeks! Your classes are going international!
Thank you for everything you do! I appreciate how hard you work!
I am 63 years old and my doctor said that I should be doing weight bearing exercises several times per week for my bones (since we all lose bone density as we age). I told her about Casey's strength classes and she said those were perfect. I have been doing the classes for several years and not only am I stronger and have more defined muscles, but my balance (another thing we lose as we age) has improved significantly. The classes aren't only fun, but go by quickly. Casey is so motivating and empowering that just when I think I can't do one more rep, she says something which keeps me going.
I also modify where I need to (such as doing jumping jacks instead of jumping rope). I recommend Casey's classes for all ages!
When quarantine started, Power Ryde stepped up in a BIG WAY, offering virtual strength classes to help keep us motivated. I started out with a few thinking it would help keep me active, soon I found myself doing every single one because I have NEVER had a workout quite like this! I have been so sore (in such a good way); Casey knows what she is doing! The fact that I can take these classes on my own time has been a game changer for me. With a mix of the RealRyder cycling classes & virtual strength classes, my runs have improved so much,literally shaving MINUTES off my miles! I could not recommend Power Ryde enough.
Tried a treadmill class and it was KILLER! So humbling. Getting through the entire class with your pace cues will have to be a long term goal! Hardest class ever! I thought it was great! However, I spent most of the time trying to convert my speed from kilometres per hour to mph, to figure out what speed I usually run. Darn European treadmills.
Since the end of January, I have lost 27 lbs and I know without a doubt that I could not have done it without the Virtual OTB classes. With the gyms closing in March I could have easily given up, but Power Ryde provided virtual OTB strength classes, challenges, and stretch classes that I could do 4-5 times a week live or when my schedule allowed. The OTB classes have provided me structured workouts, confidence, increased endurance, and are always a great sweat! Since the gyms have reopened I continue to do the OTB classes to compliment cycling and running. The classes are always different and I look forward to each one of them. I truly could not have made it this far on my health journey without Casey and her OTB classes!!!
I just want to say thank you for the tread workouts, since I have been doing them, I am really pushing myself to be faster and have started to do intervals on my outside runs as well. I had one of my best miles last Wed and pushed myself to try to beat it on Friday and was able to shave 30 seconds off the mile!! I like not knowing what each week will be like and you've done a good job to spice it up. Your motivation during is super helpful and I loved what you said at the end of this one, if you don't push yourself nothing will change, so right!!!
WOW! Loved it. It was tough and was a great challenge! It was better than I expected!
Treadmill class was awesome and a killer. I love sprints!
Thank you for offering the Whole 30 group. Doing Whole 30 with others helped me stay more accountable than doing it on my own. I got so many great recipes and tips. The Whole 30 really helped me be cognizant of what I put in my mouth on a daily basis (more than I thought!). I can't believe how much better I felt in 30 days!
After trying all the gimmicks, diets, healthy eating lifestyles, etc. that all left me frustrated, hungry and disappointed, I am so glad I finally decided to commit to Power Ryde's Power 30 Program!! There is no secret to heath, fitness and weight-loss...it is diet and exercise...plain and simple! Not only am I down 8 lbs, but I learned so much about my own eating habits and how different foods affect me. I could not have been as successful in the program without the group support, and direction provided by Casey and Meg!
I will be doing this again!!
Just did the treadmill class today because I was out of town and holy moly it was SO good! I needed that. It kicked my butt and I still had fun!