Why You Must Include Cardio AND Strength Training in Your Fitness Routine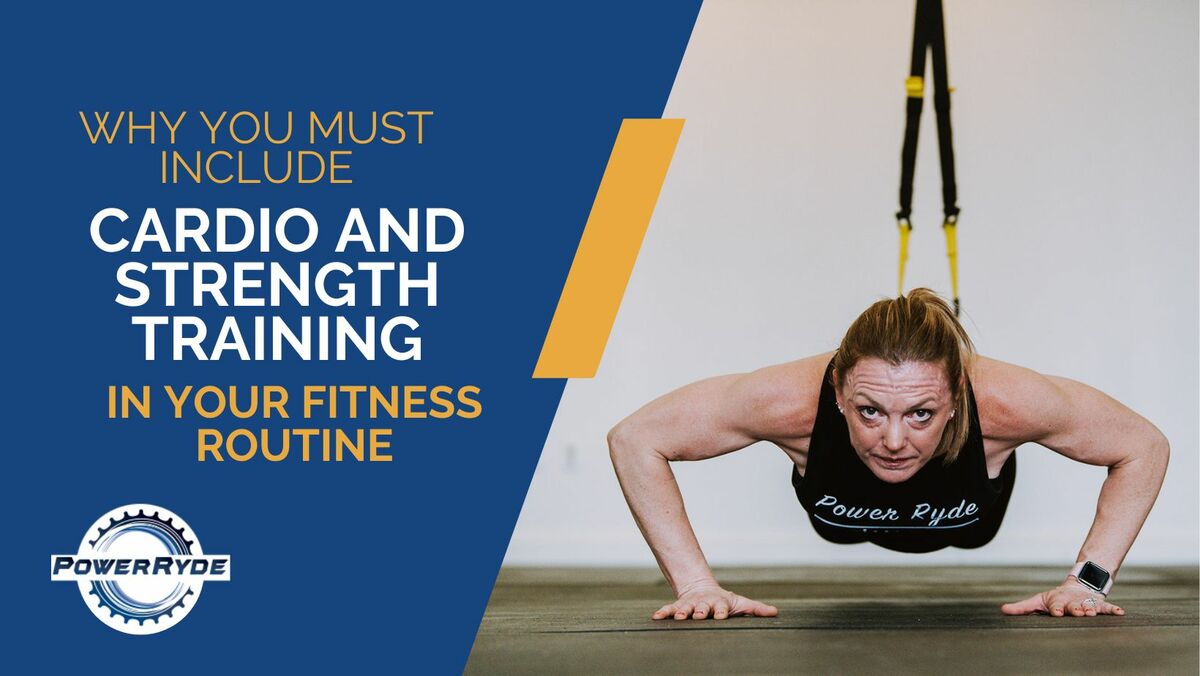 There is nothing better than a good, fulfilling workout. Not only is it good for your body, but it also helps your mind stay sharp and balances your mood by telling the brain to release endorphins, dopamine, and serotonin.


A quality fitness routine is important for maintaining a healthy body and a healthy lifestyle.


However, many people (even those who are highly active) have sub-optimal fitness routines. They tend to focus on one aspect of their physical abilities while neglecting others. You will often see this imbalance in people who only lift weights, or only jog to stay fit.


While weightlifting and running are both excellent exercises, the human body does best with a combination of both cardiovascular and strength training.


Keep reading and we will tell you the importance of both cardio and strength training (and the best way to get both in one training session).


Cardio and Strength Training Go Better Together


The best workouts happen when you combine cardio and strength training; you burn more calories and get a bigger bang for your buck.

Cardio improves your body's ability to send blood and oxygen to your muscles and improves the strength of your heart and lungs. Better cardio health also trains your muscles to optimize the use of oxygen, making your body more efficient from head to toe.


Meanwhile, strength training helps build muscles that you use in everyday life. The more muscle tissue you have, the more calories your body will burn; so, strength training improves your metabolism as well.


In short, when you do both cardio and strength training, it boosts your body's overall efficiency, meaning your athleticism is greatly improved.


There are many ways you can rock cardio and strength training in one session.


Summer is a great time for incorporating new workout routines and improving your physical fitness. Many people want to exercise outside, but in the process neglect their indoor workouts.


Jogging, outdoor cycling swimming, and other outdoor activities typically focus on cardio, and it can be hard to get a strength workout in while exercising outside. So where do you find a quality strength workout during the summer?


Let's look at Power Ryde's TRX classes as a prime example of an indoor workout that focuses on strength training.


TRX classes are a form of suspension training that uses your body weight as resistance and focuses on training your core strength. Whether you are new to using the TRX straps or more experienced, our instructors will help you learn. TRX classes are one of the most fun and engaging ways to get into strength training, especially if cardio is your typical go-to workout.


But wait! What do you do if you want both a cardio and strength training workout? You don't have to settle for one or the other. Power Ryde has you covered! Our circuit classes are just what you are looking for.


Circuit classes are a 45-minute interval-based workouts. Each participant starts at a station and works their way around the room; performing a new exercise at each stop. Work, sweat, rest, repeat! You will use balls, bands, dumbbells, TRX straps, Bosu balls, boxes, and more!


An added benefit is the circuit class familiarizes you with all the miscellaneous equipment so you can enhance your personal workouts. And since there is such a variety in the type of exercises you will do, the time will fly by.


TRX and Circuit classes are the perfect workouts for exercise aficionados of all skill levels. Beat the heat this summer and try one of Power Ryde's exciting indoor workout classes.


Bridget O.


"Power Ryde spin classes are killer cardio, but I didn't realize how much work my core, upper body, and lower body were lacking in muscle tone. Still to this day, I hurt in places that I didn't even know could hurt, but these classes are full of various of moves that hit multiple muscle areas at once, using props that I never thought would hurt so good... I'm seeing muscle tone all over, while not bulking up - which is what I want from strength workouts! "


Get a More Complete Workout with Power Ryde


Make this summer about reaching your fitness goals. Better cardiovascular health and muscle strength are both excellent ways of measuring your physical fitness. Don't get stuck in the trap of only working on what you're already good at. To improve your fitness by focusing on the areas where you struggle.


The best way to improve quickly is by working on both cardio and strength training.


TRX classes are the best way to focus on your strength training, and circuit classes are the best way to focus on cardio and strength in the same session. But why stop there? Power Ryde offers cycling classes, strength classes, treadmill classes, and more.


No matter what your goals are this summer, Power Ryde is here to help!


You don't have to go it alone, view our class schedule! To find out how we can help you hit your fitness goals, reach out to Power Ryde today!