Who Brought the Power in June (2015)?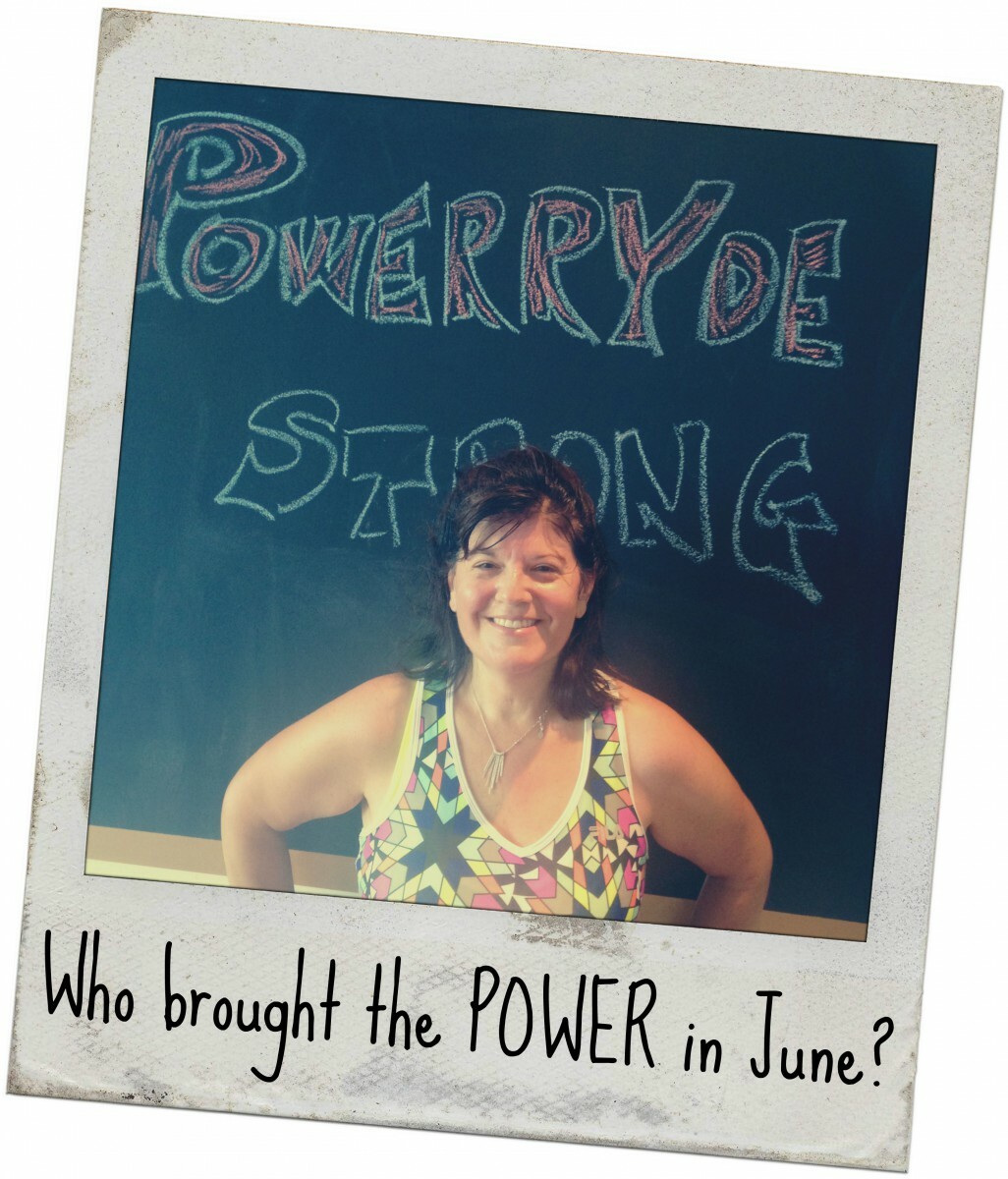 Cindy Reichman
For those of you who've ridden with Cindy, you know that she is very outgoing, very direct, and very funny. So what better way than to start this blog post with a funny story?
…Before Cindy ever stepped foot into Power Ryde, she called us. She told us she was fed up with her gym and their boring "spin" classes. She'd had enough! She had searched local indoor cycling studios and stumbled upon Power Ryde. I gotta say, I was a bit nervous for Cindy to come to her first Power Ryde class. I didn't know how she would like it, or if she would like it. Well, 45-minutes after class started, I had my answer. Cindy came out of class with a huge smile on her face and declared, "Now that was awesome!" Mission accomplished; Cindy was hooked!
Cindy now rydes a few times a week. In such a short period, she has come so far. Before she ever came in, she asked if it was dark and if people would see her when she rode. She also asked to be in the back. Now Cindy rydes up front and almost begs for me to make it harder! She is always up for a challenge. Whether it be a faster sprint or a heavier hill, Cindy is right there giving 100 percent! Not to mention, she may be Power Ryde's best source of free marketing. I swear, she tells everyone about Power Ryde and we LOVE that!
What brought you to Power Ryde?
I really loved spinning classes but found them boring after a few classes. I decided to google "spinning classes near Loveland." Power Ryde came up. I read the info and thought I would give it a try!
Do you remember how you felt after your first class? What kept you coming back?
I was a little sore after my first ryde but I thought the workout was definitely different. I thought I would give it a try and see if a few more classes would still seem just as exciting, or would I be bored again after a few? I kept coming back because I really loved the RealRyder bikes, the other ryders, the welcoming the staff, and the encouraging instructors. After each class I couldn't wait to come back the next time!
Why do you ryde at Power Ryde?
I ryde for many reasons - great cardio workout, amazing teachers, and Meg. The other class participants are so friendly, helpful, and one of the biggest highlights for me is, not everyone who rydes is a size two and/or completely buff!
What goals has Power Ryde helped you achieve?
The biggest achievements have been: finding a "spinning" class that I love and want to keep going to, building up my endurance, and actually wanting to get physically fit.
What goals are you hoping to achieve in 2015?
Goals for 2015, keep coming to Power Ryde and hit a one year anniversary AND learn how to "isolate" with no hands.
What is your favorite music to ryde to?
I am a lover of all the music, especially the fast upbeat songs!
Tell us a fun fact about yourself.
I would love to be a "greeter" at a store and tell everyone I meet about Power Ryde and how these classes are designed for people with ADD; they are always varied, which keeps you going so that you never get bored!
What motivates you?
Motivation- support, challenges, friends, and accepting that I can be healthy and fit without being super skinny.
When you are not Power Ryding, what can we find you doing?
When I'm not at Power Ryde, I love love gardening, working as a substitute teacher, hanging with my three kids (if they want to be with their mom) and spending time with my husband, Jeff.
Way to go, Cindy!