Who brought the POWER in July (2014)?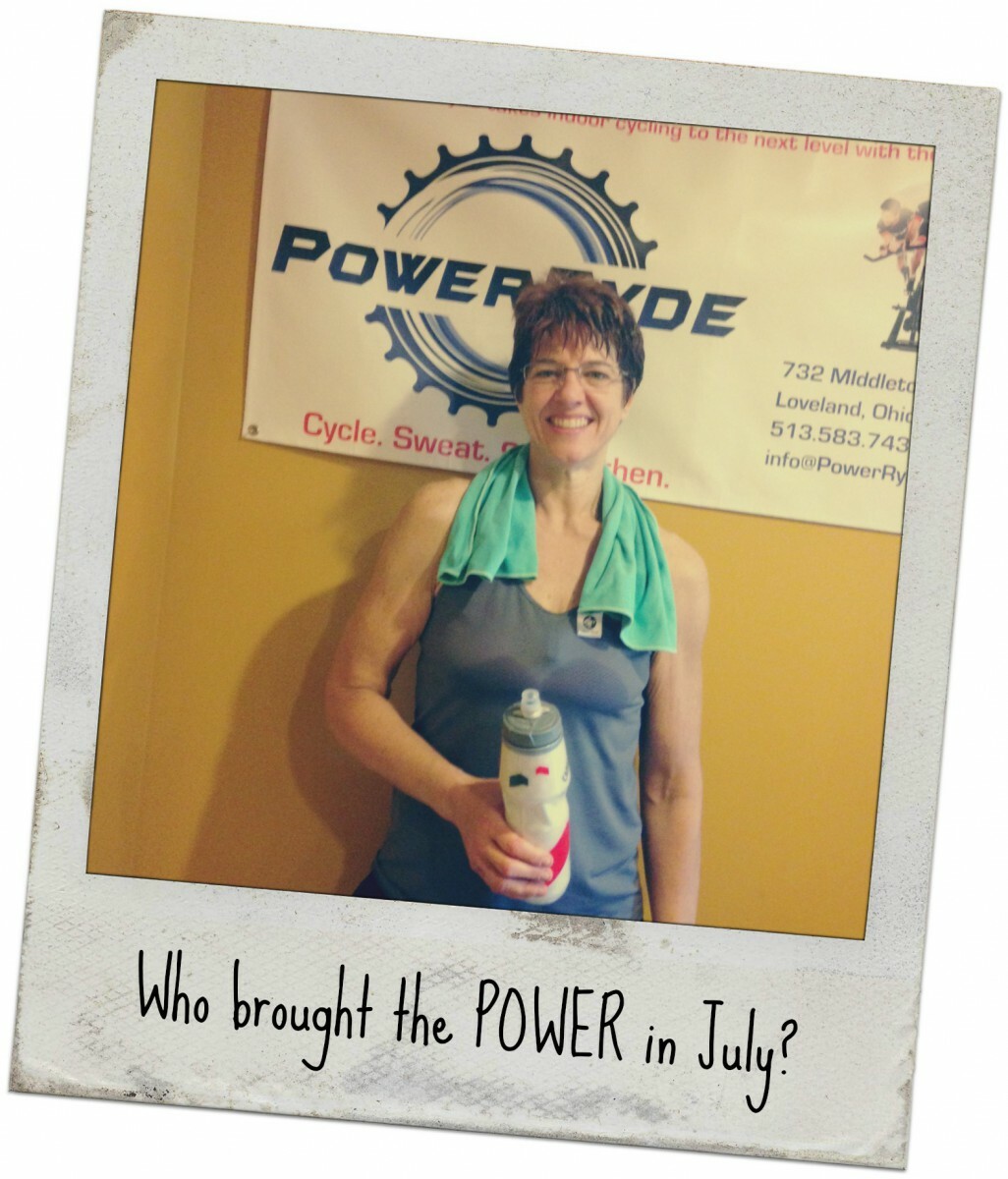 Kim Emery!
Kim Emery is one of the hardest working people I've ever met. She does it all - she bikes, she boxes, she lifts (...that's an understatement, she lifts A LOT!), she works, and of course, she POWER RYDES! Sometimes, she does it all in a day's time, seriously! So, don't tell Kim you don't have time to workout because she is a testament that everyone, even moms working full-time jobs, have time! The best part about Kim is how inspiring she is to every Power Ryder. In class, her energy and hard work is contagious...and the fact that she sings along to songs and gets others to join in, is just amazing! ...She also has one heck of a story to tell. He fitness journey is beyond inspiring (but that is for her to tell, not me!). So, if you have not yet met Kim, I highly encourage you to get your butt out of bed and come ryde with her at 5:45am (usually Monday mornings). Ryding in the same room as her is definitely the best way to start your week!
What brought you to Power Ryde?
Several of my friends were coming to Power Ryde and had nothing but great things to say about Casey, Meg and all of the instructors. I had to see for myself what this "sweatfest" was all about!
Why do you ryde at Power Ryde?
Lots of reasons, but Casey, Meg and the instructors make me feel like part of a big family and the cardio workout I get is amazing. More importantly, it's loads of fun!
What did you do for fitness prior to Power Ryde?
Hmmmm...it's much easier to answer what I didn't do for fitness...lol. I workout a lot and need a variety to keep me going....elliptical, traditional spinning, boxing, cycling and weightlifting.
What goals has Power Ryde helped you achieve?
I've lost over 200 lbs and Power Ryde is an important part of my cardiovascular and strength workouts to sustain that weightloss. My Monday morning Power Ryde session always gets my week started off on the right foot.
Any goals you are hoping to achieve in 2104?
Well it certainly isn't to do 3 Casey classes in a row...2 is more than enough! My New Years resolution was to help as many people with their fitness goals as possible. I had so many people help me along my weightloss journey and it's important to me to give back.
Kim, you do realize now that you said that, I am going to TRIPLE dog dare you to do a triple with me!
What is your favorite music to ryde to?
Anything I can sing to which is truly unfortunate for those around me because I know the words to a lot of songs!
Tell us a fun fact about yourself.
Not that this will be a surprise to anyone who has seen me in one of Casey's themed classes, but I love costumes and I've had many through the years and pretty much could show up anywhere in one, including work. However, I don't recommend spinning while wearing an elf costume or a beard.
What motivates you?
My daughter motivates me. Her drive, enthusiasm and dedication make me work that much harder to be able to be a positive role model for her. She's a pretty hard act to stay ahead of, so I work that much harder.
When you're not at Power Ryde, what can we find you doing?
Flipping tires, punching heavy bags, lifting weights and being picked on by my personal trainer. I also like to experiment in the kitchen with healthy versions of traditionally unhealthy foods.
If you all are lucky, you will be in class one day when Kim brings her trail mix. IT IS THE BEST! MMMM MMMM MMMM!!