Who Brought the POWER in August (2020)?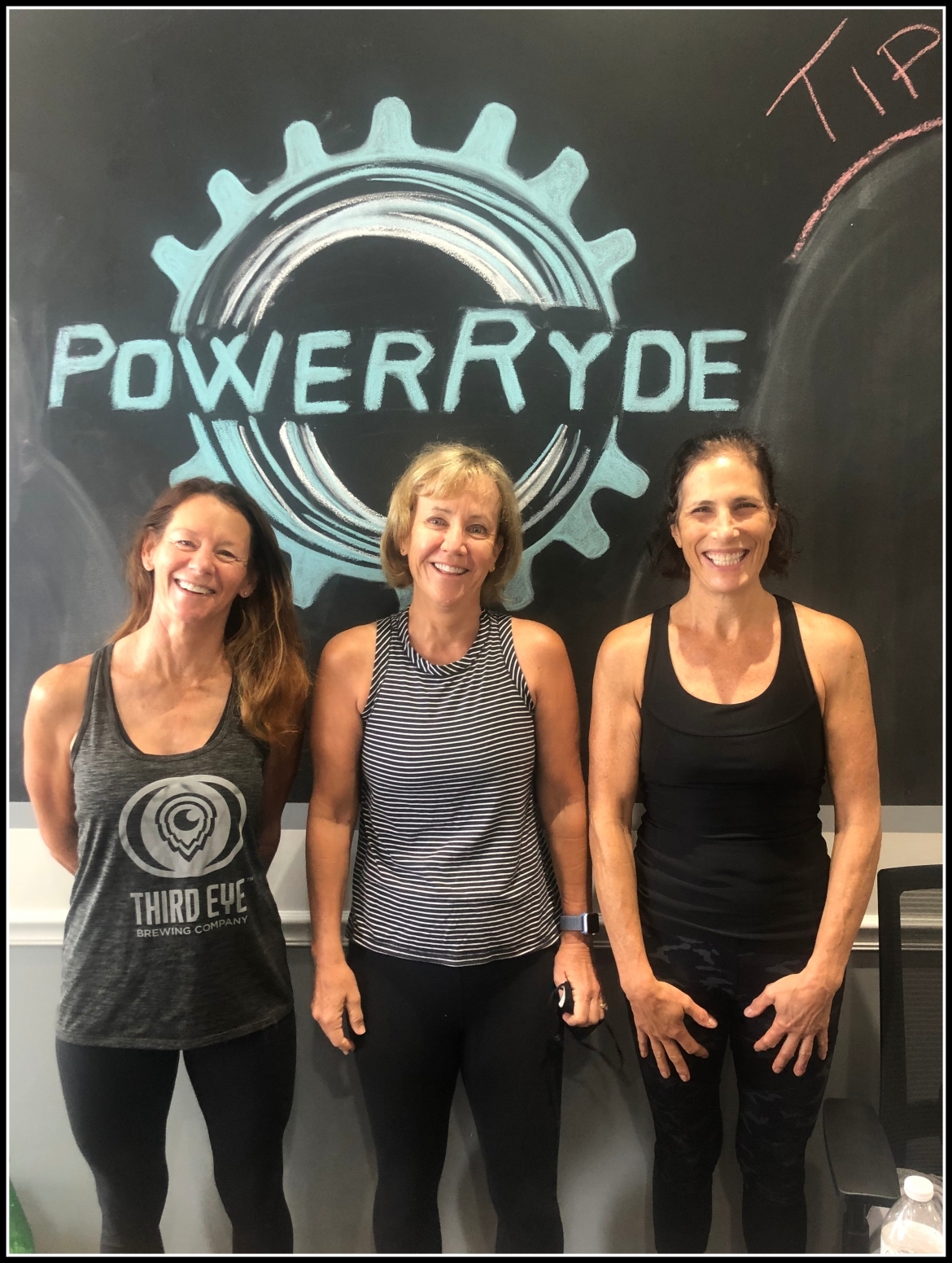 Jenny Lytle, Michele Groene, and Susan Raftery
This month we are spotlighting a Power Ryding trio of friends; Jenny, Michele and Susan. Michele was the first of the gang to come to Power Ryde, all the way back in 2013! Jenny and Susan started ryding with us in 2015, when we moved into our new space.
Over the years these ladies have not only continued to come together, but they've brought numerous other friends who we now consider "regulars." They even stuck by our side during the shutdown and rode virtually from home...on their stationary bikes!
Ladies, thank you for the years of support and hard work; we can't wait for many more!
What brought you to Power Ryde?
Jenny – Michele and Susan told me about Power Ryde! It took me a while to join the party, but it's been non-stop ever since!
Michele – I belonged to TriHealth and Lifetime and rode their spinning bikes but wanted to try a new concept- the RealRyder Bikes – and now I am hooked!
Susan - I wanted a new cardio activity that was good cross-training for running.
Do you remember your first ryde and how you felt after? What has kept you coming back for more week after week?
Jenny – I remember feeling SO out of shape during my first Power Ryde class! But, just a few more rydes and I could breathe again! I love how Power Ryde adds sprinting and hills to my weekly riding, and the left/right really helps with the fast turns and climbs needed for cyclocross/gravel racing! I can't forget to mention KIM! Kim really makes the rydes fun...not to mention her Super Duper Check-In Experience!
Michele – My first ryde was when you were at the Simply Power Yoga studio. My first ryde was a challenge and I like challenges, so I came back. I took a break for a while and went back to Lifetime and then Power Ryde opened up their own studio.
Susan - I remember it vividly. I was certain I was going to be the first person to tip over. I kept thinking about how much it was going to hurt! Casey was the instructor so of course my legs and lungs were spent by the end of class. It was hard, but I loved the challenge. Every class is still a challenge, but the instructors, the music, and the other ryders keep me coming back for more.
What do you ladies like most about ryding together?
Jenny – FUN! I live in Mason, so getting up at 4:30am, 2 days a week, to make it to the 5:30am class is crazy, but I love getting it done and moving on with my day! I wouldn't drive all that way, or get up that early, if it weren't for Michele and Susan!
Michele – Knowing that I am going to see my friends who support and motivate me is the best. I do not want to disappoint them so I must show up.
Susan - Michele and Jenny keep me motivated and laughing. They are always up for a new activity or adventure. Without the two of them I NEVER would have considered a 5:30am class!
Do you have a favorite moment that you remember at Power Ryde?
Jenny – I loved it when Jen used my suggested songs! Not sure that anyone else liked them, but I did, and had a blast! But, I really loved seeing my friend, Bob Fasola, coming every day and really getting into it…now he is non-stop!
Michele – I do not have one particular favorite moment as I have enjoyed all my moments at Power Ryde with great friends, staff, and the owners.
Susan - During the COVID quarantine I was amazed by the Power Ryde community! So many people pitched in to figure out new ways to ryde and to stay connected. Even in this new ab-normal, the team continues to find new ways to accommodate the needs of the ryders.
Tell us a fun fact about your yourself.
Jenny – I am one of 10 kids with a twin brother who is 6'-5"! And I love Cyclocross - riding around on grass with little hills makes me feel like I am 12 again!
Michele – I dropped after my freshman year to travel the world. I eventually came back to finish my college degree.
Susan - I had front row seats on the Ellen show with my daughter, Alli.
When you are not Power Ryding, what can we find you doing?
Jenny – Riding outside on road, trail, gravel, parks and old golf courses, hiking - oh and working.
Michele – Hanging out with Jenny and Susan of course!
Susan - I enjoy yoga, power walking, taking care of our 6 chickens, and working for a locally-owned market research company.