Power Ryde Retrospective: The Ben Morrison Memorial Fundraiser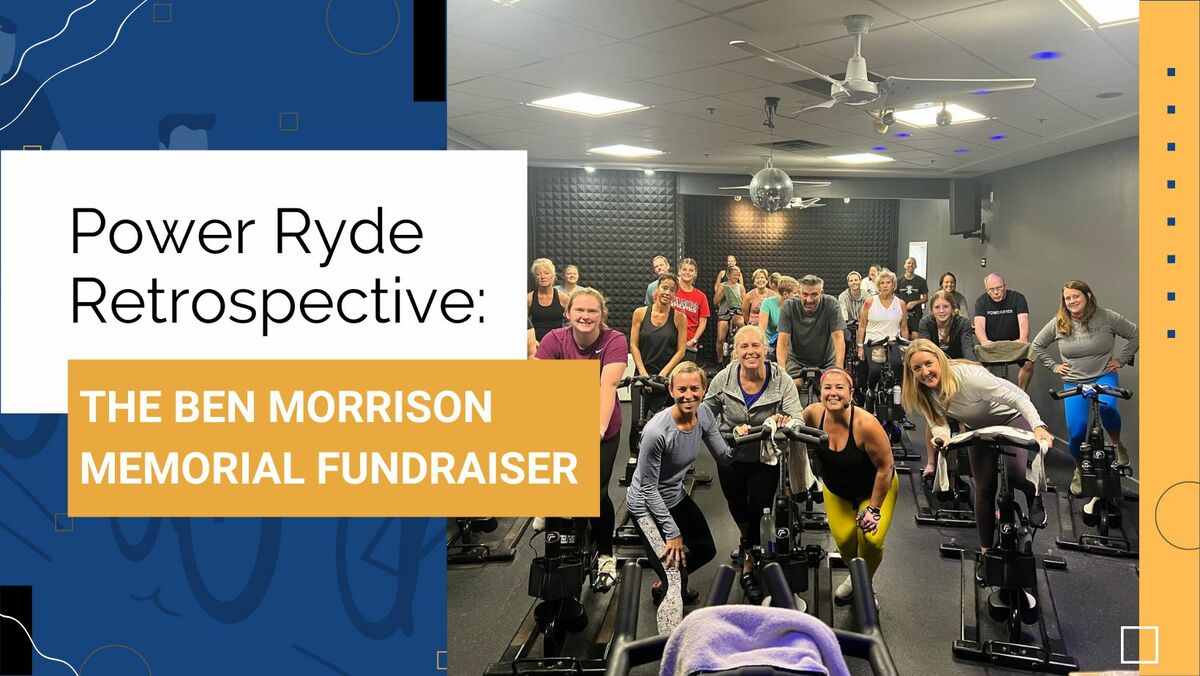 At Power Ryde, we've always been dedicated to more than just physical health and fitness. We regularly harp on mental strength. You've heard Casey say it many times at the studio, "The strongest muscle in your body is between your ears." Yep, your brain. If you can think it and if you believe it, then you certainly can achieve it. We have to be mentally strong in order to be physically strong. We push our readers physically in class because we believe if you can push through the tough times in the studio, then you can push through the challenges that you face outside the studio.


As someone who overcame severe childhood PTSD, Casey knows the importance of a strong mind and just how powerful a scared mind can be. However, we don't talk enough about how hard it can be to overcome those demons and negative thoughts in your mind. We are taught to be strong and not to show our weaknesses. At Power Ryde, we believe speaking out about mental health is not a weakness at all, but one of the bravest things you can do. FF this reason, on October 1, 2022, Power Ryde held the Ben Morrison Memorial Fundraiser to raise funds for suicide prevention and to help fund scholarships for Loveland High School Seniors.


Keep reading to learn more about the details of this event.


The Ben Morrison Memorial: A Fundraiser for Suicide Prevention


Mental health and suicide prevention are topics that will always be relevant and should always be spoken about. At Power Ryde, we have a strong passion for connecting our community and raising funds and awareness for organizations important to us.


Our Ben Morrison Memorial Fundraising Ryde had a packed class with 32 ryders ready and eager to cycle, sweat, strengthen, and SUPPORT mental health and suicide prevention. Each Ryder donated a minimum of $25 to attend the class and 100% of the proceeds were donated to the Ben Morrison Memorial Fund.


We also hosted Kendra Scott Jewelry, who donated 20% of their sales proceeds to the Ben Morrison Memorial and we had a raffle. All in all, Power Ryde raised and donated just over $1300 to the Ben Morrison Memorial Fund.


Rounding Out the Year with Power Ryde


Power Ryde is committed to raising awareness about suicide prevention and improving the education of Loveland students.


The Ben Morrison Memorial does excellent work to ensure that both these goals are progressed, and Power Ryde is honored to have played a small role in hosting this event and raising funds.


Looking onwards, Power Ryde will be hosting more fundraising events before the year is up. These events are to-be-announced, so stay tuned and get ready for more wonderful Power Ryde events.


If you are interested in hosting a FUNdraising event, let us know! We love hosting donation-based rydes for various charities, organizations, and local families/individuals in need.


FUNdraising Rydes | Power Ryde


If you would like to donate to the Ben Morrison Memorial, please visit the Facebook page to learn how you can contribute!