Balsamic Chicken and Mushroom Soup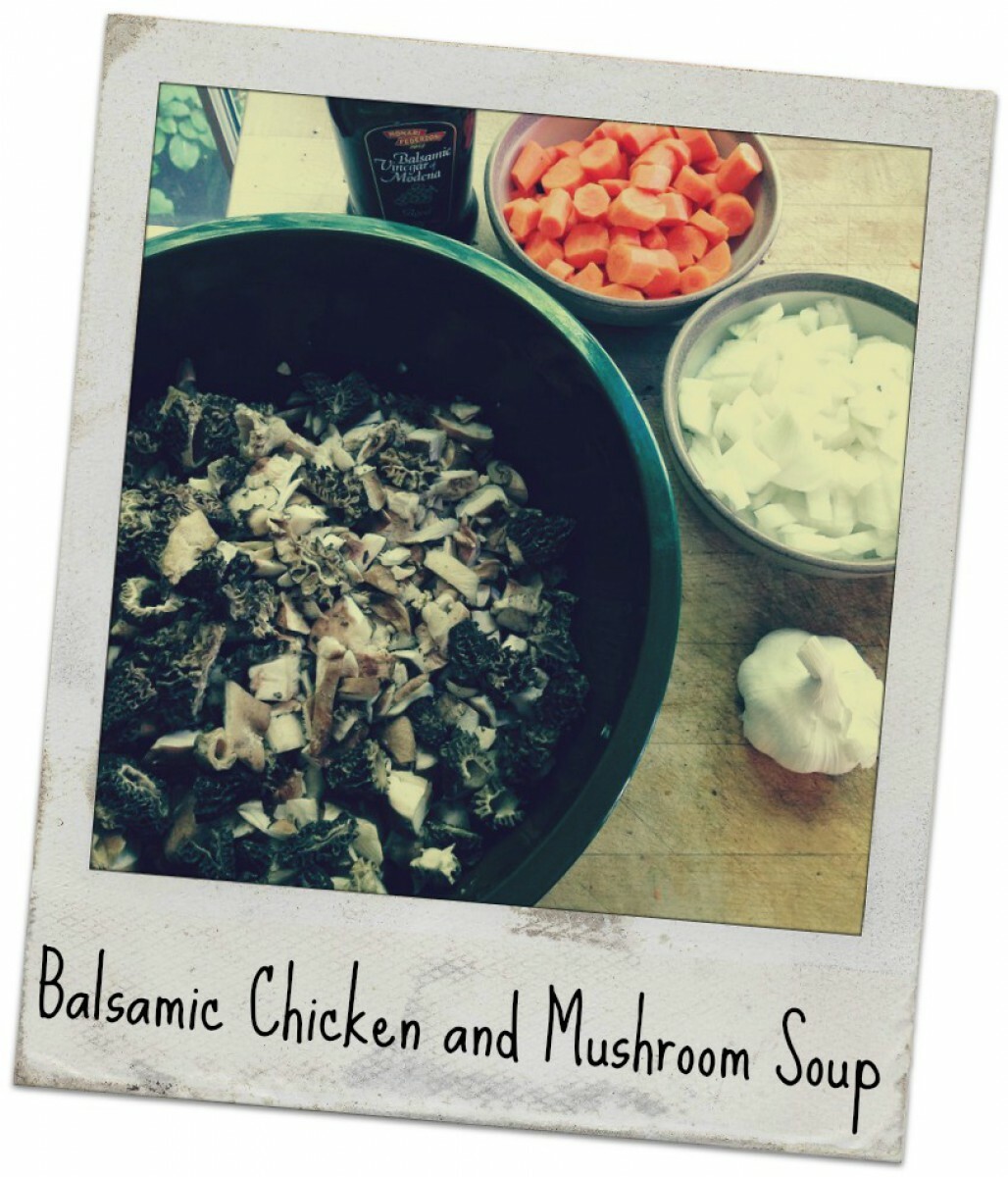 Yes, I know what you're thinking, who wants to eat soup when it is 95+ degrees outside and uber humid? I know, I know, but this is SO GOOD! I was actually trying to make this Garlicky Balsamic Chicken recipe the other night, when I realized I added way too many mushrooms and too much chicken stock. So instead of Garlicky Balsamic Chicken, I created a Balsamic Chicken and Mushroom Soup…and man was it good! P.s., make extra because it is even better the next day!
Ingredients
4 chicken breasts (about 1.5 or 2 pounds of chicken)
LOTS of mushrooms chopped (I used 5 containers of mushrooms - whichever you like - I did a mix of morels, shitakes, button mushrooms, and baby portabella mushrooms)
5 large carrots chopped (I LOVE carrots)
2 large pieces of celery chopped
1 medium yellow onion chopped
4-6 cloves of garlic minced
32 oz chicken stock
1/3 cup balsamic vinegar
1T dried thyme
Olive oil or coconut oil for sautéing
Salt and pepper
Directions
In a large pot or a dutch oven, melt 1T of coconut oil (or olive oil) and add chicken breasts (you may have to do two at a time).
Cook chicken breasts a couple minutes per side, just to get some nice golden brown color.
Remove golden chicken breasts from the pot and add chopped onion.
Stir onion for a minute, then add in all your mushrooms and a good pinch of salt and pepper.
Sauté mushrooms for about 5-10 minutes. At first it will get very wet as all the liquid comes out of the mushrooms, but keep sautéing them until all the liquid evaporates (if you don't have time to do this, no worries, there can still be liquid).
Add the minced garlic, chopped carrots, chopped celery, and thyme. Mix everything together.
Add the balsamic and the chicken stock. Stir it all together.
Add the chicken breasts back into the pot. Cover the pot and bring to a boil.
Once boiling, allow the soup to simmer for 30-60 minutes over low heat. You want the chicken to cook through and all the flavors to meld together.
I always cook my soup earlier in the afternoon, so then I let it sit on the stove covered (with no heat on) for a few hours, so all the flavors can come together. Before you are ready to eat it, take two forks and gently shred the chicken breasts (they should already be super tender, so they will fall apart easily).
Warm up your soup and eat it!…I LOVE to slice up an avocado ad put it on top!
If your soup is runny and not thick, try one of these tricks! (I usually use 1/2 teaspoon of tapioca starch mixed in 1 teaspoon of water).