Who Brought the POWER in October (2020)?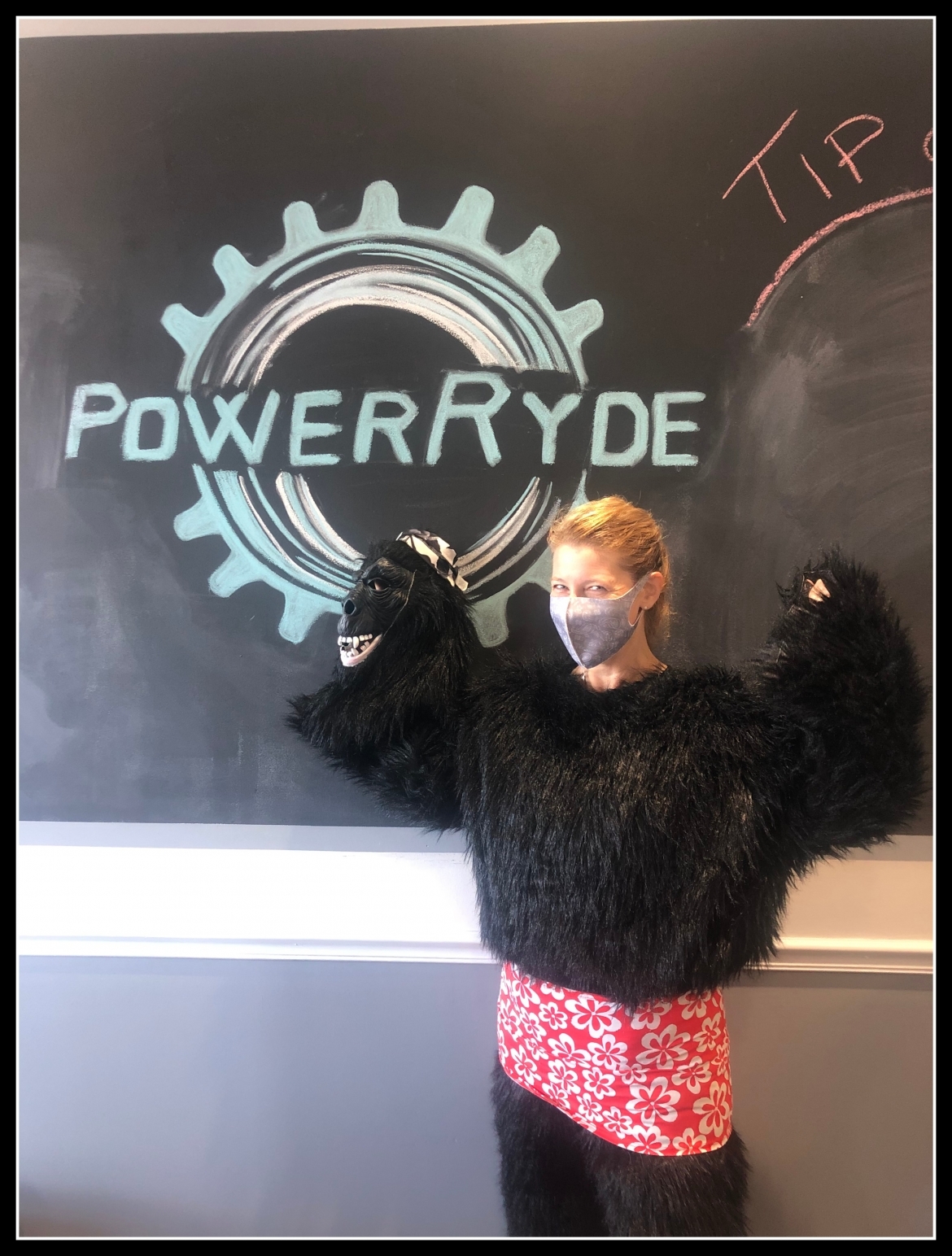 Tammy Brown
This month we are spotlighting our silly, funny, and hardworking Power Ryder, Tammy! Tammy started ryding with us back in 2015. Her friend, Lauren, brought her to our Bring a Friend Free Thursday class and Tammy has been coming back ever since!
Tammy is a mid-morning ryder and more often than not, runs a couple minutes late...but we always know she is going to run in with a smile on her face, ready to work. Not only does she have a cool vibe to her, she is someone you just want to chat and giggle with. I mean, look at what she wore to our Halloween class last weekend; a full gorilla suit, which she kept on THE ENTIRE CLASS! Tammy definitely commits and goes all out. And we love her post-class style - you can always find her around the corner caffeinating at Starbucks!
Keep reading to learn more about Tammy and why she rydes with us!
What brought you to Power Ryde?
Power Ryde is close to home and I liked the idea of bikes that move. After having neck issues, I had a hard time riding regular spinning bikes. When my friend, Lauren, encouraged me, I decided to join her!
Do you remember your first ryde and how you felt after? What has kept you coming back for more week after week?
It was just the right kind of challenge! I was determined to be able to stand and shake and get the most out of the Real Ryder experience. I loved the energy, music, friendliness, and overall vibe of encouragement! I was determined to make this my new cardio workout and a healthy habit!
Do you have a favorite moment that you remember at Power Ryde?
Theme Rydes and when my husband comes for my birthday! ...But every ryde makes my day!
What is your favorite music to ryde to?
Any music chosen intentionally for the ryde!
Tell us a fun fact about yourself.
I hiked the Rim to Rim of the Grand Canyon in 2 days and I scuba dived in the Great Barrier Reef, but I can't swim.
When you are not Power Ryding, what can we find you doing?
I'm an Audiologist, I do HR work, and volunteer. Otherwise, I'm outside, at Starbucks, or at my kids' and husband's disposal! Power Ryde gives me the energy and encouragement to do it all!!!!